Primus IV – Tube-Above Sequential WDXRF Spectrometer
The Rigaku ZSX Primus IV is a wavelength dispersive X-ray fluorescence (WDXRF) spectrometer that combines tube-above sample optical configuration with rapid sequential quantitative analysis. With a high intensity X-ray source and the latest synthetic analysing crystal technology, the Primus IV can accurately determine major and trace compositions for elements from beryllium (Be) to Uranium (U) with minimal standards.
With a host of cutting edge technologies, the Primus IV delivers unprecedented levels of sensitivity and precsion. These characteristics make this system the perfect partner for high end research or high volume quality control applications.
Key Features
Analyses elements from Be to U
Tube-above configuration minimises the effects of contaminants
Compact size
30µm tube window provides superior light element detection
Mapping provides elemental/topographical distributions
Micro analysis of samples as small as 500µm
Helium seal ensures optics are always under vacuum
ZSX Guidance software for expert performance
EZ-scan software for routine analysis
Tube-Above Optics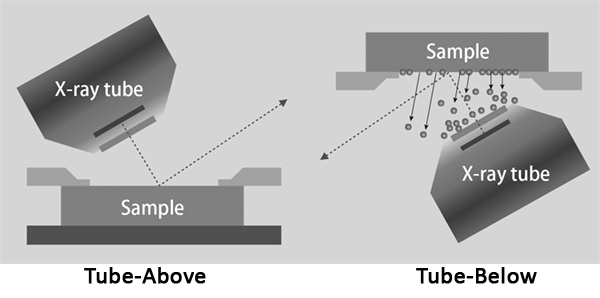 The Primus IV utilises an innovative tube-above configuration that minimises contamination along the beam path and all but eliminates downtime for sample chamber maintenance. This optical configuration negates the need for cleaning and increases the reliability of data generated.
High Speed Analysis
Rigaku have engineered the Primus IV for speed and accuracy. High speed analysis can be attributed to several factors:
High speed sample transport
High speed goniometer
Rapid data processing
These combine to give you high sample throughput and increased efficiency.
Superior Light Element Performance
By employing a 4kW SuperTrace 30 high-intensity X-ray tube with 30µm Be window (industry leading thinnest window), light element (low-Z) detection limits have been optimised. Furthermore, multi-spot analysis helps to minimise sampling errors due to inhomogeneity.
Analysing Crystals
This system incorporates the latest RX85 multi-layer synthetic crystal that produces approximately 30% greater intensity then existing multi-layer crystals for B-K?.
Curved PET and Ge crystals are standard in the Primus IV. The curved Ge crystal produces P and S output intensities that are about 30% higher than their flat equivalents. A similarly increase in the output intensity for Al and Si is produced using curved PET crystals as opposed to flat crystals.
Elemental Mapping
The Primus IV software mapping package is the most advanced available for detecting inhomogeneities and inclusions. This provides you with valuable insights that are not possible with many other analytical techniques.
ZSX Guidance Software
The ZSX Guidance software assists you through all aspects XRF measurement and analysis and gives novice operators the capability to analyse samples like an expert. Its in-built knowledge requires the operator to only input basic settings relating to the sample, analysis components and standard composition to carry out sophisticated measurements.
The system automatically calculates measured lines with the least overlap, optimum backgrounds and correction parameters including line overlaps.
SQX Fundamental Parameters Using EZ-Scan Software
With EZ-scan, you can analyse unknown samples with no prior setup. With just a few mouse clicks and SQX fundamental parameter software, you can be analysing samples with one of the fastest and most accurate XRF analysis systems on the market.
SQX automatically corrects for al matrix effects including line overlaps. It also takes into account secondary excitation effects by photoelectrons (light and ultra-light elements), changes in atmosphere, impurities and different sample sizes. Accuracy can be enhanced using a matching library and perfect scan analysis programs.
WDXRF Point and Mapping Analysis
Regions of interest can be pin pointed and magnified using the in-built high-resolution camera. The r-? sample stage can then be positioned accurately to make measurements with uniform sensitivity on these precise areas.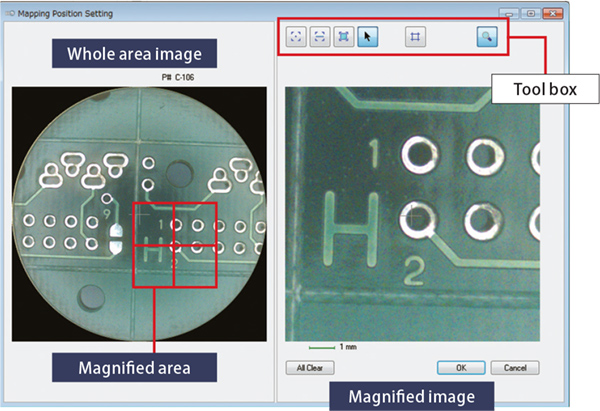 Measuring Specific Areas and Regions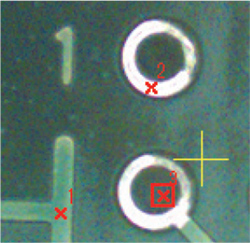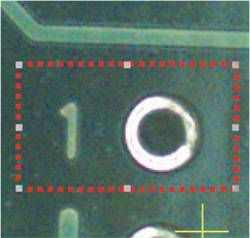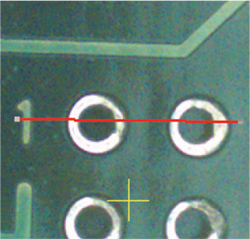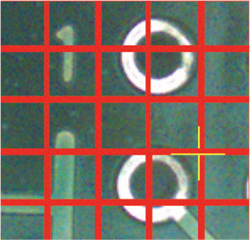 Micro Mapping
Sample image and data display (mapping graph, measured data) are integrated in the map view window. The software provides a variety of graphical modes for mapping visualisation.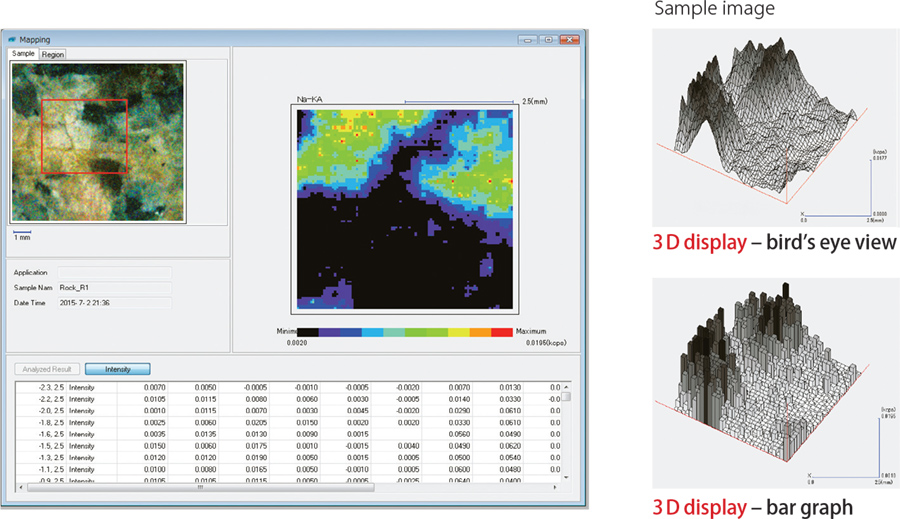 Point /Mapping Analysis of A Geological Sample
The in-built camera was used to magnify an area of interest for a given rock sample. Point and mapping analysis was carried out on this region.
The red box in the sample image is magnified and displayed in the right-hand of window, allowing the measurement position to be specified precisely.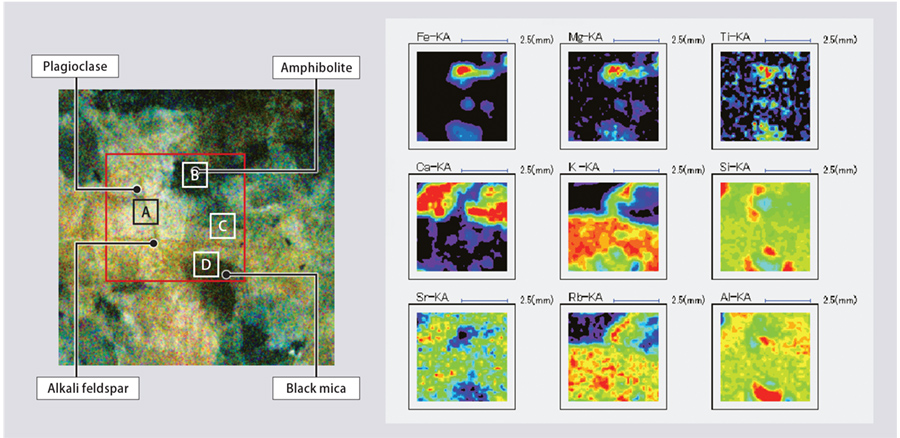 High-Precision Analysis of Rh, Pd, Pt in Automotive Catalyst Recovery
Honeycomb and pellet catalysts contain many additive elements in high concentrations. For this reason, to obtain accurate XRF results, it is crucial to make calibration curves with inter-element corrections.
In this example. excellent calibration curves were obtained for Rh, Pd, Pt. The relative precision for each element obtained is within 1%, which demonstrates that the ZSX Primus IV is suitable for QC analysis for automotive catalyst recovery.


Specifications
X-ray generator
X-ray tube
End window type, Rh target 4kW or 3Kw
High voltage generator
High frequency inverter system
Max. rating 4kW
Spectrometer
Maximum sample size
52mm dia x 30mm high
Primary X-ray filter
Ni400, Ni40, Al125, Al25
Analysis area diaphram
6 sizes automatic exchange mechanism(φ35, 30, 20, 10, 1, 0 .5 mm)
Crystal exchanger
10 crystal automatic exchange mechanism
Counting system
Detector
SC for heavy elements
F-PC for light elements
Heating-type center-wire automatic cleaning or Optional S-PC LE
(Sealed proportional counter for light element)