XtaLAB mini II – Benchtop Crystallisation System for 3D Chemical Structure Determination
The XtaLAB mini II is the second generation benchtop diffractometer for small molecule structure determination. Its compact size and ability to run off standard mains power mean that you can easily integrate it into your lab  where it will produce definitive publication-quality 3D structures.
The new XtaLAB mini also features a Hybrid Photon Counting (HPD) detector, developed specifically for this instrument. This is mated to the SHINE optic that produces data comparable to much larger systems.
Also included is Rigaku's comprehensive and powerful CrysAlis Pro software. Designed by users, this software is constantly improving and evolving with new features for small molecule and protein crystallographers. At the heart of the software is the automatic crystal screening , data collection and strategy modules that will quickly help you optimise your experiments and generate structures.
Features
This affordable benchtop crystallisation system features:
Affordable design with low operating costs
Requires minimal training and support
Automatic structure solution software
Latest generation air-cooled HPC (Hybrid Photon Counting) detector
Provides definitive structural information
Ideal supplement for a NMR spectrometer
Perfect self-serve departmental lab instrument
Ideal teaching instrument
Publication quality results
No special infrastructure required (240 VAC)
Optional cryosystem available
Automatic Small Molecule Structure Determination
The Rigaku Oxford Diffraction XtaLAB mini benchtop X-ray crystallography system for automated three dimensional (3D) chemical structure determination is the latest in affordable single crystal X-ray diffraction. Designed to automatically produce publication quality structures for researchers who have no special training in chemical crystallography, the system runs on standard wall power in all markets (240 VAC for Australia).
Self-Service, Easy-to-Use Routine Research Tool
The XtaLAB mini is a full-powered research grade chemical crystallography instrument that sits on the benchtop. No data quality compromises, no extended collection times. Results delivered are unambiguous. Obtaining high resolution 3D crystal structures of small molecules becomes routine with automation of previously difficult aspects of X-ray crystal structure determination, from data collection all the way through to a structure solution. The expert will appreciate the complete set of tools for handling even the most difficult twinned or disordered samples.
Ideal Teaching Instrument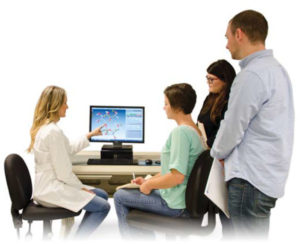 The XtaLAB mini II is also an ideal teaching instrument. The compact design means you can locate it conveniently in a lab near related synthesis equipment, providing the flexibility of being independent from central analytical facilities.
The system has also been designed with students in mind, and features robust features to minimise student damage. As such it is ideal for students to learn how to physically mount crystals onto a goniometer and centering the crystal in the X-ray beam. Furthermore, safety features ensure that students will not be accidentally exposed to X-rays.
The Rigaku XtaLAB mini II
How to Mount Crystal on the XtaLAB Mini Small Molecule Diffractometer
The XtaLAB Mini Small Molecule X-Ray Diffractometer