AXT Now Offer Direct Electron's Ultra-High Performance TEM Cameras
AXT are pleased to announce the formation of a new relationship with US-based Direct Electron who produce next generation detection cameras for Transmission Electron Microscopes (TEM). These cameras are used by researchers in both academia and industry working in materials science and life science to image samples down to the atomic level.
Founded in 2007, Direct Electron are designers and manufacturers of ultra-high performance cameras for electron microscopists. Their cameras utilise in-house developed Direct Detection Device (DDD®) technology that was developed in conjunction with the University of California San Diego (UCSD).
Their cameras offer the ultimate resolution, sensitivity, and the largest available field-of-view. They enable microscopists to collect high quality data faster and optimise the optical performance of existing TEMs. Furthermore, they allow users to generate stunning and reliable 3D reconstructions providing the ultimate insights into the structure of their samples.
Bob Monteverde, Director of Business Development and Marketing at Direct Electron said, "We are excited to be working with AXT who are both well respected and extremely active in the microscopy arena. We are certain that our partnership will help to grow our brand in Australia and New Zealand."
Richard Trett, AXT's Managing Director said, "We have an extensive portfolio of microscopy-related products. The addition of Direct Electron's Direct Detection cameras adds another valuable product that we can offer our existing client-base that fits with our mission to provide cutting edge solutions to Australian researchers."
AXT has numerous products for TEMs including in situ platforms for performing dynamic experiments in the sample chamber, detectors for chemical analysis and sample preparation and transfer systems.
Posted May 8, 2019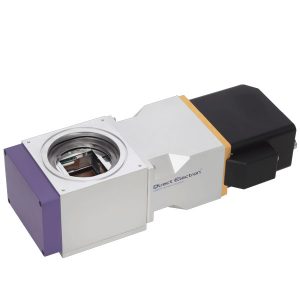 Direct Electron's DE-64, the world's only 8K x 8K TEM camera.