2010 Geno/Grinder®  – Plant and Animal Tissue Homogeniser and Cell-Lyser
Designed specifically for rapid cell disruption, cell lysis and tissue homogenisation
The 2010 Geno/Grinder® is the ultimate plant and animal tissue homogeniser and cell-lyser features an adjustable clamp that accommodates a variety of sample formats ranging from deep-well titer plates to centrifuge tubes. Its high-throughput capabilities allow it to process up to four – deep-well titer plates or up to sixteen – 50mL centrifuge tubes simultaneously.
The Geno/Grinder is specifically designed for rapid cell disruption, lysis, and tissue homogenisation while preserving temperature sensitive samples with Kryo-Tech® accessories.
Typical Sample Types
Typical samples include:
Plant and Animal Tissues
Cell Cultures
Seeds
Yeast
Bacteria
Features
Automated mechanical disruption ideal for high-throughput applications involving sample preparation for DNA, RNA, and protein extractions, pesticide residue analysis, and more
Equipped with digital timer, lockdown lid, and safety interlock for operator protection.
Patented laboratory mill designed for vigorous up-and-down shaking of deep-well titer plates, vial sets, and centrifuge tubes
Optional Kryo-Tech Accessories enable cryogenic grinding and preserve temperature sensitive samples for DNA/RNA and protein extractions
Optional Adjustable Clamp holds up to six deep-well titer plates, multiple centrifuge tubes, and other large grinding vials
Strong vertical clamp movement of 500-1750 strokes/minute ensures that grinding media directly impact the sample each and every time
Typical sample processing time of 1-2 minutes
New Design
The 2010 Genogrinder features a new, more user-friendly design and retains the robust and reliable operation of the previous model.
In particular the new touchscreen interface is fully programmable and tilts through 90° for optimal visibility. The touuchscreen allows the operator to program parameters including:
Run time
Cycles
Pause time
Up to 500 protocols can be stored for rapid recall, allowing you to more accurately replicate specific protocols and eliminating operator error. This makes the 2010 the ideal instrument for labs needing to process large numbers of samples that may involved numerous researchers/technicians working on the same project.
Password protection also allows different levels of access to specific users.
The system can store run history which can also be exported via USB. It also automatically logs diagnostics for servicing.
On Board Resources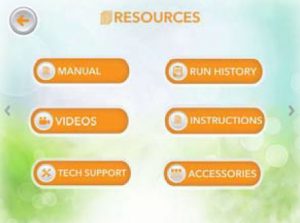 The new 2010 Genogrinder also stores on board a host of resources such as:
Training videos
Instruction and operation manuals
Catalog of accessories
Technical support information
Specifications
| | |
| --- | --- |
| Timer/Controls | Touchscreen control with password protection |
| Clamp Movement | 3.2cm vertical |
| Clamp Speed | Adjustable from 500-1750 strokes/minute |
| Dimensions | 35.6 cm wide x 57.2 cm deep x 71.1 cm high |
| Net Weight (lbs) | 45.5kg |
| Motor | 1/3 hp |
| Voltage | 240V/50Hz |
| CE Approved | Yes |
The Next Generation GenoGrinder 2010 for Plant and Tissue Homogenisation and Cell Lysis
Preparing Plant and Animal Tissue Samples Using the 2010 Geno/Grinder
2189 Adjustable Clamp for the 2010 Geno/Grinder
How to Use the 2189 Adjutable Clamp
Using the 2010 Geno/Grinder for the QuEChERS Method